Travel Seasons and Climate in Egypt
By
Hesham Elgammal

on

12 Jun 2022

Planning for tourist visitation to Egypt? You should know what time would be best for your tourist visitation so you could maximize your experience. You need not be confused about your planned tourist visitation to Egypt as this piece of article aims to enlighten you with the necessary information you need. You can trust the accuracy of the information contained in this article as it was derived from expert advice and opinions in the country of concern

That said, Egypt is easily one of the hotspots for tourists in the world. This is attributed to the strategic role Egypt played in the medieval and ancient world. Egypt has one of the oldest civilizations in the world, and as a result, has ancient structures and stories that create a lot of excitement for tourists. One of the wonders of the ancient world is located in Egypt, the Pyramid of Giza. This pyramid with other ancient structures and sites makes Egypt attractive to tourists. Consequently, it is not unsurprising to see Tourists flock to the country in their thousands or perhaps millions annually.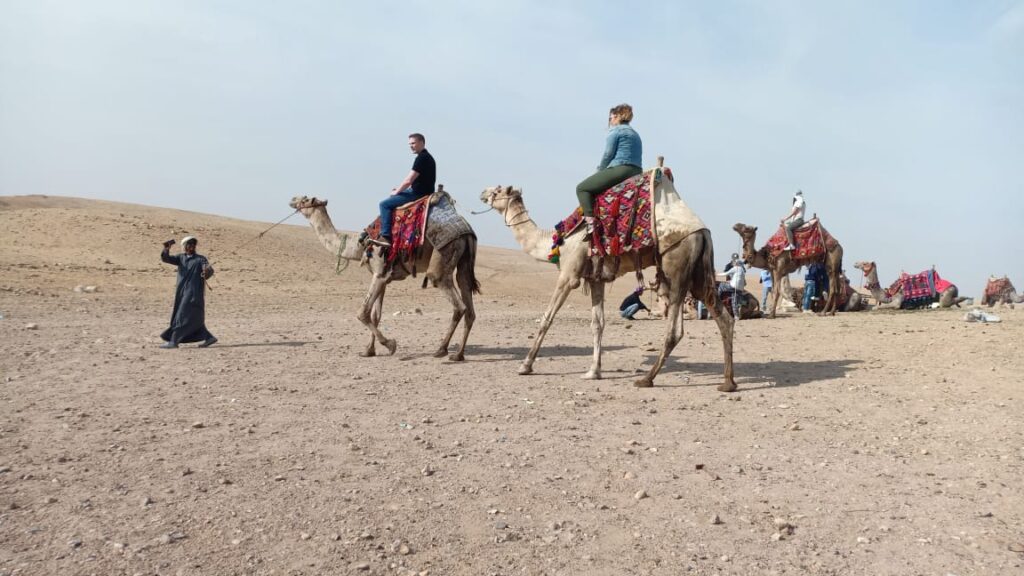 Egyptian Climate and Temperature.
The climate and weather may play a role in determining how well you would enjoy your experience.
The climate of Egypt isn't like every other country in Africa. The climate is cooler and the temperature is not as hot as in every other region on the African continent. Bear in mind that the African continent is known to have aggressive weather and temperature conditions. But in comparison with Egypt and other countries in Northern Africa, it is still much better and closer to the weather in Europe and the North Americas.
That said, you can expect a temperature between 14°c to 40°c. Depending on the season. During summer, it would be hot and during winter it would be cold with temperatures as low as 9°c and sometimes, 17°c. During the summer temperatures may be as high as 40°c making it very hot. But overall it is still very cool and attractive to tourists.
And so the best time for a tourist visit to Egypt is between October and April as this window period helps you to avoid the summer period of July and August.
There are 4 seasons in Egypt. Let's look at them and their events and peculiarities and how they offer you enjoyable visitation
Spring season in Egypt
Generally speaking, one of the best periods for a tourist visitation to Egypt, for obvious reasons. Which is the fact that the temperature is very much more okay than in most seasons. However, the only issue in this season is the Khamsin wind which is known to occur anytime in March and April. The exciting event in this season is the festival of Shamnessim. It is a big event in Egypt and hence a public holiday nationwide in the country. This festival is usually celebrated just after the Easter celebration. The festival is all about feasting with Fesikh (An Egyptian local delicacy) at any location in the country, especially in the Nile location. Other food items that are feasted on include lettuce and green onions.
Check out more about Nile River Cruise
Summer Tourist Visitation to Egypt
This summer season might not be too palatable as it is hotter. Nevertheless, several activities are available in this season that makes it attractive to tourists. For example, you can visit popular tourist attractions in during the summer and just explore the beauty of ancient Egyptian civilization. Also, the beaches in Egypt are accessible in this period too, especially Hurghada Beach or the Sham El-Sheikh beach. They are situated around the coast and could be very much enjoyed during summer. Furthermore, you can also explore safari locations in the country. The major holiday in this season the is the red sea holiday
Autumn Tourist Visitation to Egypt
This season is comparable to the spring season, however, it is cheaper for tourism during this season. You can get to enjoy the beauty of the Nile during this season. You can conveniently cruise the River Nile in this season and have a wonderful tour of Kamak and Hatshepsut temples, you can also tour the king's valley and the Aswan Dam all located around the river. No special holiday in this season.
Check out more about Egypt tour packages
Winter Tourist Visitation
This season attracts tourists the most because of the cool weather. The major celebration in this season is the Coptic Christmas, usually celebrated on January 7. It is usually an elaborate celebration as Christmas attend Coptic Church services, after which they head home to celebrate with the family. Visiting Egypt during this period is usually a memorable experience as you get to party on Christmas or Santa wares with Egyptian Christians, especially in their street and cafe. The winter season is the peak period of Nile cruise Luxor Aswan.
In summary
You can expect to enjoy cruising around River Nile around October and April as they have favorable temperatures.
Also, visitation to the Red sea is all year long, meaning there is no best time to visit and enjoy yourself at the red sea
For visitation to Egypt's Oasis
The best time for a Tourist Visitation to the Egyptian Oasis is just between winter and summer. Because of the extreme temperature that is hot during summer and very cold during winter. Easily the period should fall from April and September to November. As the temperatures in the period are tolerated